Silver Studio
The Silver Studio is designed to give silversmiths and jewelers the opportunity to access the school's growing inventory of specialized silversmithing equipment to further develop and improve their silversmithing skills. Meeting on a regular basis, the school provides a welcoming and professional environment for experienced and inspiring artists to network, learn, and create.
For further information or to be added to the Silver Studio email list, please contact the school.
Requirements: Beginner Silversmithing experience and MVAS Membership.
Studio fee: $10 for the evening studio, $20 for an all-day studio.
Students are responsible for their own silver and stones. All other materials, including acetylene, burnishing compound, flux, and pickle are complimentary.
---
Framing Studio
The Milan Village Arts School Framing Studio provides a unique opportunity for students and artists to professionally frame their artwork. Equipped with a computerized Wizard mat cutter, the Framing Studio is a fully-functional framing workshop. Artists can make frames, cut mats and glass, back their artwork, add bumpers and hanging wire, and leave with a professionally framed painting, print, or photograph.
Students who complete the Picture Framing Workshop will acquire all the skills necessary to access this studio.
MVAS has a large selection of matting in the studio for purchase. The school also has an account with TC Moulding in Minneapolis and students can order framing materials at wholesale prices.
Requirements: Completion of a Framing workshop and MVAS Membership.
Studio fee: $5/hour, $10/ half day, $20/ day. Most of the supplies, including tape, staples, backing paper, wire, and bumpers are complimentary.
Use of the studio is by appointment. Past members are welcome to return to use the studio for a small additional fee of $5 in addition to the fees listed above: $10/hour, $15/ half day, $25/day.
~~~~~~~~~~~~~~~~~~~~~~~~~~~~~~~~~~~~~~~~~~~~~~~~~~~~~~~
Framing Studio – Conditions of Entry during COVID-19
If you wish to use the Framing Studio, you must contact the school by email and book a session in the studio. Until further notice, walk-ins are not permitted. Please try to contact the school at least 2 days prior to using a studio.
Room Occupancy: Only one user or small group is permitted entry at a time. A small family group is allowed entry if negotiated at the time of booking.  Two or more non-family users are allowed entry if negotiated at the time of booking.
If you are feeling unwell for any reason, do not make a booking or attend a studio.
Studios are not open to the public. No visitors other than the person or persons making the booking may enter the studio.
Only one booking will be permitted per day.
On entry, the user must either sanitize with the hand sanitizer provided or wash their hands with soap and water for 20 seconds. This procedure must be followed each time the user leaves the room and re-enters the studio.
On completion of their studio session, users must clean all surfaces and tools used with the disinfectant wipes made available in the studio. Please leave the studio cleaner than when you arrived!
For questions, please contact MVAS at admin@milanvillageartsschool.org or (320) 734-4807
---
Textile Studio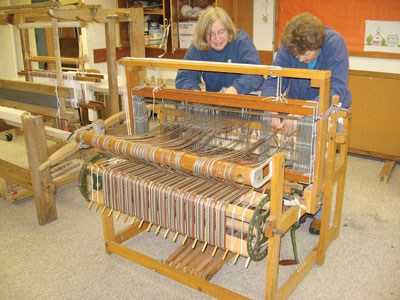 The Textile Studio gives students the opportunity to create beautiful rugs from old jeans, blankets, and other articles of clothing. Outfitted with six large floor looms and several smaller table looms, the studio is well equipped to meet all our students weaving needs.
Students can either use the studio by appointment or join a weaving group that meets on arranged dates over the year.
The Weaving Rugs class will provide you with all the elementary skills needed to get weaving.
Students who use the Textile Studio need to be MVAS members.
Studio fee: There is no fee. Looms are maintained with warp at no cost. Students are required to supply their own material.
Please contact the school for more information.
---
Open Carving Night
Wood carving can be a solitary pursuit or it can be an activity enjoyed with a group of people. On a cold winter's evening in Scandinavian countries it is not uncommon for friends and family to sit around the warmth of a fire and carve spoons or figurines. In Minnesota, wood carving is becoming increasingly popular as more and more people discover the creativity and relaxation carving brings to their lives. This growth in popularity has led to carving groups springing up across the Midwest. Open Carving Night was created to provide a wood- carving friendly environment where carvers would have the opportunity to meet, carve, socialize, and share their knowledge of carving with fellow artists.
All carvers, no matter their choice of carving style, are invited to attend Open Carving Night and enjoy an evening of carving and friendship. On any given evening, a visitor to the school may observe acanthus, flat plane, figure, spoon, bowl or chip carving artists at work.
Carvers of all persuasions are invited to meet at the school on the first Tuesday of each month to carve and network.
Requirements: Some experience in wood carving. Students must supply their own carving tools and wood. It is not necessary to be a member of MVAS to attend.
Fee: There is no fee for Open Carving Night.
Time: First Tuesday of each month from 6:30 p.m. – 9:30 p.m.
Please contact the school for more information or to be included on the Open Carving Night email list.